With the topping poured and the structural engineering passed, we are moving forward at the Mansion. The Atrium received four inches of standard concrete, which was power-troweled to a polished finish. The main and second story of the house received one and a half inches of a self-leveling concrete. The radiant heat water pipes were cleanly installed, so there will be no problems with them floating up to the surface of the concrete. Aside from the concrete protecting the pipes, it also distributes the heat evenly and helps reduce noise transfer from floor-to-floor.
Did you know that Vancouver is the only Canadian city with its own building code? And more relevant to this post, did you know that Vancouver is the only city in the lower mainland that DOES NOT inspect the heating system of a house?
The Marine Mansion is on the UBC Endowment Lands, where heating systems are inspected prior to the concrete pour.
slab on grade in the atrium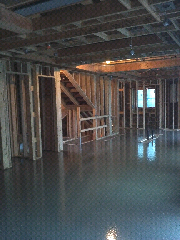 main floor self leveling topping
laser level ensuring the the floor is level